Dark Angel Towing - Motorcycle Towing Services in Chicago, IL
Welcome to Dark Angel Towing - We are the premier provider of MOTORCYCLE TOWING SERVICES in Chicago and surrounding suburbs. Our goal is to provide the very best motorcycle towing, accident recovery and transportation service in the Chicago area.
Finally we have a better way! Because We believe that our customers deserve a good quality service at Dark Angel Towing / Chicago Motorcycle Towing Services we have added to Our Fleet a full custom Motorcycle Truck only design to tow any kind of motorcycle, choppers, can-ams, scooter, mopeds, four wheelers, trikes or any special toy.
We are License, Insure and Regulated by The Illinois Commerce Comission.
We accept All Major Credit Cards and Insurance (with authorization).
We have all the proper equipment to transport your bike safely and securely to your home or shop.
We do know how bad it is when your bike breaks down, you misjudged a corner or involved in an accident, but that should be the last part of your day, Rely on us getting you and your motorcycle back home safe.
We know towing your motorcycle is the last thing you think about, but when you need a tow, all of a sudden it becomes the most important thing on your mind. Hopefully, you will never need to call us. But just in case, it is nice to know we are there. And it's better to know us and not need us, than to need us and not know us! All of our professional tow operators are trained to tackle any situation, anytime on any weather condition and understand the headaches and the serious complications from breaking down whether on the highway or in the wilderness.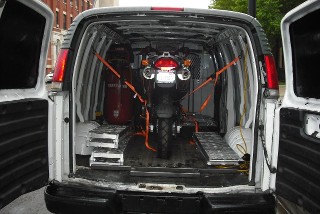 Our goal is to protect your motorcycle from any outside elements, which can damage your motorcycle during the process of towing in an average tow truck. We want our customers to rely on our secure, damage free, motorcycle towing. We also offer jump start and gas delivery. At Dark Angel Towing all of our Tow Operators are among the best in the business. Our goal is to always deliver the most excellent service at affordable prices.
Crash Recovery: Due to the training and experience that we have, Dark Angel Towing has developed ways to safely move and tow your motorcycle when it can not roll on its own. We have the right equipment and highly trained personal to tow or recover your motorcycle, if your motorcycle is to far from the road, in a ditch or in the river. We take pride in our state of the art equipments to provide the best care and recovery of your motorcycle to prevent any further damage.
We want you, our valued customer, to be satisfied with the service that our Company has to offer. Contact us 24 hour, 7 days a week for any emergency motorcycle towing or roadside assistance need in Chicago or any Suburb in Illinois

Motorcycle Towing Services in Chicago, IL

Albany Park 60625, Andersonville 60640, Archer Heights 60632, Ashburn 60652, 60629, Austin 60644, 60639, 60651, 60707, Avalon Park 60619, Avondale 60618, Back of the Yards 60609, Belmont Central 60634, 60739, Belmont Gardens 60641, 60739, Belmont Heights, Belmont Terrace 60634, Beverly 60620, 60643, Beverly View 60620, Beverly Woods 60655, Big Oaks 60656, Bohemian National Cemetery 60630, Bowmanville 60640, 60625, Brainerd 60620, Bridgeport 60608, 60609, 60616, Brighton Park 60632, Bronzeville 60609, 60615, 60616, 60653, Buckton 60614, 60622, 60647, Budlong Woods 60625, Buena Park 60613, 60640, Burnside 60619, Cabrini Green 60610, Calumet Heights 60617, 60619, Canaryville, Chatham 60619, Chicago Lawn 60629, Chicago O'Hare Airport 60656, 60666, Chinatown 60616, Clearing 60638, Cottage Grove Heights 60628, Cragin 60641, 60739, Dearborn Park 60605, DePaul 60614, Douglas 60605, 60616, Douglas Park 60608, Dunning 60634, East Chicago 60617, East Garfield Park 60612, 60624, East Rogers Park 60626, East Village 60622, Edison Park 60631, Edgebrook 60646, Edgewater 60640, 60660, Englewood 60621, 60636, Ford City 60629, 60652, Forest Glen 60630, Gage Park 60609, 60629, 60632, Galewood 60707, 60739, Garfield Park, Garfield Ridge 60638, Gold Coast 60610, 60611, Gosse Island 60610, 60622, Graceland Cemetery, Graceland West 60613, Greater Grand Crossing 60619, 60637, Gresham 60620, Hamilton Park, Hegewisch 60633, Hermosa 60739, Hollywood Park 60659, Humboldt Park 60622, 60647, 60651, Hyde Park 60615, 60637, Jefferson Park 60630, 60646, Kelvyn Park 60641, 60739, Kenwood, Kilbourn Park, Lake Meadows, Lakeview 60613, 60657, Lawndale 60608, 60612, 60623, 60624, 60644, Lincoln Park 60610, 60614, 60622, Lincoln Square 60625, Little Village 60608, 60623, Logan Square 60618, 60647, Longwood Manor 60628, 60643, Marquette Park 60629, McKinley Park 60608, 60609, Midway 60638, Morgan Park, Montclare 60707, 60634, Mount Greenwood 60655, Near North Side 60610, 60611, Near South Side 60616, New East Side 60601, Noble Square 60622, North Austin 60651, 60739, North Center 60613, 60618, Norwood Park 60631, O'Hare 60656, Oakland 60653, Old Irving Park 60641, Old Town 60610, Park Manor 60619, 60621, 60637, Pilsen 60608, 60616, Princeton Park, Portage Park 60634, 60641, Pullman 60628, Ravenswood 60613, 60625, 60640, River North 60601, 60610, 60611, 60654, River West 60610, 60622, Rogers Park 60645, 60659, 60660, Roscoe Village 60618, 60657, Roseland 60628, Sauganash 60630, 60646, Schorsch Village 60634, Scottsdale 60652, South Chicago 60617, South Deering 60617, 60633, South Loop 60604, 60605, 60606, 60607, 60661, Tri-Taylor 60612, Ukrainian Village, United Center, 60612, 60622, University Village 60607, 60608, Uptown 60640, Vittum Park 60638, Washington Heights 60643, West Elsdon 60629, 60632, West Loop 60607, 60661, West Pullman 60628, 60643, West Lawn 60629, West Loop Gate 60670, 60673, Wicker Park 60622, Woodlawn 60637, 60649, Wrigleyville 60613, Wrightwood 60652.

Motorcycle Towing & Transport:

Addison, Arlington Heights, Bedford Park, Bellwood, Bensenville, Berkeley, Berwyn, Bolingbrook, Bridgeview, Broadview, Brookfield, Burr Ridge, Chicago, Chicago O'Hare Airport, Cicero, Country Side, Darien, Downers Grove, Des Plaines, Elmhurst, Elk Grove Village, Elmwood Park, Evanston, Forest Park, Forest View, Franklin Park, Glen Ellyn, Harwood Heights, Hinsdale, Hillside, Hodgkins, Itasca, La Grange Park, Lemont, Lincolnwood, Lombard, Lyons, Maywood, Melrose Park, Morton Grove, Mount Prospect, Niles, Northlake, Norridge, North Riverside, Oakbrook, Oak Park, Park Ridge, River Forest, River Grove, Riverside, Rosemont, Schaumburg, Schiller Park, Skokie, Stickney, Stone Park, Streamwood, Summit, Villa Park, Westmont, Westchester, Western Springs, Willow Springs, Willowbrook, Wood Dale.
Dark Angel Towing & Auto Repair Services offers
Free towing (light duty only), between 8 a.m. - 6 p.m. for disabled vehicles within 2 miles from our Shop.
Some Restrictions Apply. Call for details.

Terms
By accessing this web site, you are agreeing to be bound by these Website Terms and Conditions of Use, all applicable laws and regulations, and agree that you are responsible for compliance with any applicable local laws. If you do not agree with any of these terms, you are prohibited from using or accessing this site. The materials contained in this Website are protected by applicable copyright and trademark law.
Site Terms of Use Modifications
Website at any time without notice. By using this Website you are agreeing to be bound by the then current version of these Terms and Conditions.